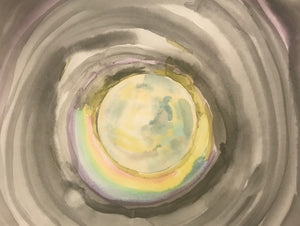 Moon Halo
Regular price $1,111.00 Sale
Moon Halo is an oracle activation and offering to the divine feminine. 

The Inspiration for Moon Halo comes from the ancient tradition of creating paint from plants & minerals, while tuning in and feeling nature's energy directly from the medium. There is a transcendent wisdom and pure communion one can experience when painting with botanicals & earth colors. Through this ancient alchemy I can preserve the piece's natural essence, immortalizing its prism of energy in digital amber to live on & endure in the infinite world of block chain. 
Moon Halo on cold pressed paper, painted with natural hues created from botanicals and authenticated as a digital asset (NFT), or crypto-art Non-Fungible Token. Our NFT Certificate of Authentication allows for your Perle Mer physical artwork to also dually live in your blockchain wallet as a NFT, not only for safekeeping and digital permanence, but also to sell/trade or gift. Moon Halo is a unique, original botanical color painting and NFT created by Emily Cadenhead exclusively for Perle Mer. Upon purchase, we will send you this beautiful painting as well as transfer the NFT digital file to your blockchain wallet of choice.
12" x 8.5"